You can take a virtual tour of our new office here.
Pediatrics for You is very conveniently located in Kennewick, WA (behind Toyota Center, and close to Columbia Center Mall). It is easily accessible from all over Tri-cities and surrounding towns. We moved into our new facility in Oct. 2011.
As you drive into the spacious parking lot, kids get excited looking at beautiful and colorful butterfly and inchworm sculptures. The waiting lobby is spacious and colorful and has two separate waiting areas and a separate kid's play room. Sometimes it is difficult to get the kids out of the playroom after 10-15 minutes, our typical wait times.
The exam rooms are spacious and well-lighted with lot of natural light. We have dedicated colorful and engaging weighing stations to keep the kids occupied as they get weighed and measured. We try our best to keep your visit pleasant and productive.
Pediatrics for You
6802 W Rio Grande Ave.
Kennewick, WA 99336
Tel: (509) 572-2201
Fax: (509) 783-8844
Office Hours
Monday: 08:00 AM – 05:00 PM
Tuesday: 08:00 AM – 05:00 PM
Wednesday: 08:00 AM – 05:00 PM
Thursday: 08:00 AM – 05:00 PM
Friday: 08:00 AM – 05:00 PM
Saturday: Closed
Sunday: Closed
Appointments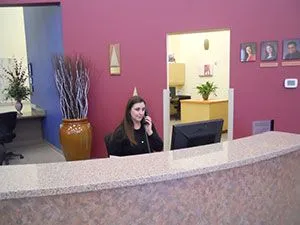 You can schedule an appointment by:
Call our office at 509-572-2201
Submit a request on our website or through your mobile device or ipad (non-urgent appointments only)
Submit a request through our Patient Portal for our current enrolled patients (for non-urgent appointments only)
We also offer Same Day Sick Appointments for acute care.
We encourage you to review our Appointment Policy here.
Please visit our Services page to familiarize yourself with the the well-child schedule. Please visit our Newborn and Hospital Care page for more information on Meet and Greet Visits for expectant mothers.
Phone calls and Same Day Sick Visits
We triage and assess your phone calls on clinical issues. We prioritize the phone calls based on the clinical issues and its severity. We believe in a responsive clinical practice and all phone calls are returned before the close of the business day.
We also believe in practicing safe medicine and we may advice you an in-office visit based on the clinical issue and its assessment over the phone. In most instances, we are able to schedule a same day sick visit.
After Hour Phone calls (509 572 2201)
Please limit after-hour calls to urgent issues and emergencies. For refills, appointment requests, and other non urgent matters, you may leave a message or call the office during regular hours. If leaving a message:
Leave your child's name and date of birth.
Be sure to leave a callback number.
Disable your call block feature.
Insurance Accepted
Aetna
Asuris
Cigna
Coventry Healthcare
First Choice Health Network
Humana
Kaiser Permanente of WA
Molina Healthcare of WA
Moda Healthcare
Premera Blue Cross
United Healthcare
Self Pay Patients
Please call us if you have any other insurance
Payment Options
We accept lot of different insurance plans and self-pay patients. Please do not hesitate to call our office if you have questions on insurance or billing or need help with a payment plan. We offer different options for payment plans. Call today at 509-572-2201 for more details.
Co-payments are due on the day of service. We gladly accept cash, checks, and credit and debit cards for your convenience.
Please review our Payments and Financial Policy here.